Hi Friend,
I am joining up at the Sunday Social in an attempt to put myself out there to perhaps find a reader or two. I confess I am a bit behind the times when it comes to blog lingo. OK I am way behind, but I am learning...slowly. However what I lack in blogger
know-how I am hoping to make up for in project zeal!
I am struggling to figure out how to effectively grow my blog. The only thing I really know how to do adequately, is link up to other peoples parties. You say party and I am THERE! ;-) I mean really, who doesn't love a good party?
I love the satisfaction I get when seeing other peoples creativity come ALIVE. I feel lucky to be surrounded by such talent on a weekly basis at these parties.
My husband is ultra supportive of my new blogging adventure asking daily, "how is the blog"?, as if it is our newest child. Well my newest baby needs desperately to get out there for a little social development. The Sunday Social seems like the perfect place to do so.
2. Link up your
blog's home page
-- not a specific link or you will be deleted!
3. Visit at least 2 other blogs and make some friends!
4. Let your friends know by posting this button. The more, the merrier!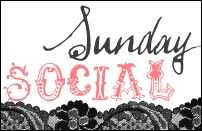 Wish me luck!
Shannon

Oh man! I totally messed up the picture on the link up. I can't figure out how to change it to something so a blank box it is. Going for the whole don't judge a book by it's cover thing. REALLY? I am trying to get myself out their and I screw up the picture post. Nice one Shannon!